Plan Your Patio Date Night
Plan Your Patio Date Night
RELAX WITH PET-FRIENDLY PATIO FURNITURE
Posted by Chair King Backyard Store
Spring Cleaning
& Patio Maintenance
Spring Cleaning
& Patio Maintenance
Posted by Chair King Backyard Store
Roses are red. Violets are blue, so why not host your Valentine's Day where the flowers grow too? Romeo and Juliet met in a garden, so why not reserve your V-day plans on the patio?
This year, the love holiday falls on a Tuesday. It's not an ideal day of the week for celebrating a holiday that often requires a dinner reservation. Still with a little planning, you can make this Valentine's (or Galentine's) Day swoon-worthy regardless of your relationship status. Here's what we recommend:
1. Set the Mood with Lighting
Whether you're getting together with friends or a partner, don't think a soft glow should be exclusive to a romantic setting. Proper lighting can elevate any event, but in this case, soft lighting is the way to go. The warmer the hue, the better. It's Valentine's Day, after all, so break out the candles. Everyone has a few lying around the house, so grab them and bring 'em outside.
Don't like candles? Not a problem. Tea lights, torches, or even our outdoor lanterns can create a nice glow with minimal investment, but if you're already in the market, nothing beats a fire pit. A roaring fire is inherently romantic. It provides heat and the perfect lighting for capturing those envy-inspiring selfies. Chair King Backyard Store carries wood-burning and gas fire pits in multiple styles, so just like assorted chocolates, you've got options.
Maintaining Your Outdoor Furniture
Cleaning your patio furniture isn't at the top of most people's to-do list, but it's important if you want to extend the life of your patio set. Here's what you need to get started:
Water–wheter it's a running hose or a bucket of water, expect to get a little pruny.

Soap – we recommend dish soap, but any mild cleaner or detergent will work.
Soft-Bristle Brush – find something in between a broom and a sponge. If it's uncomfortable dragging the bristles across your skin, they're too scratchy.
Once you have the necessary items, tailor your cleaning to your patio furniture's needs. The material that makes up your outdoor furniture determines your next steps, so find your material below:
2. Make It Cozy
Cozy is a feeling. When creating a comfortable atmosphere or space, you want to start with texture. Blankets and throw pillows are a must. A fur throw screams love and luxury and plays well in an outdoor setting—even if it's faux. Fleece is also an excellent option. It's soft to the touch, and most people already have a fleece blanket in their homes. Let's remember, people, Valentine's Day takes place in winter. Heat is a priority. A cute blanket will keep you warm and earn you style points from your guests.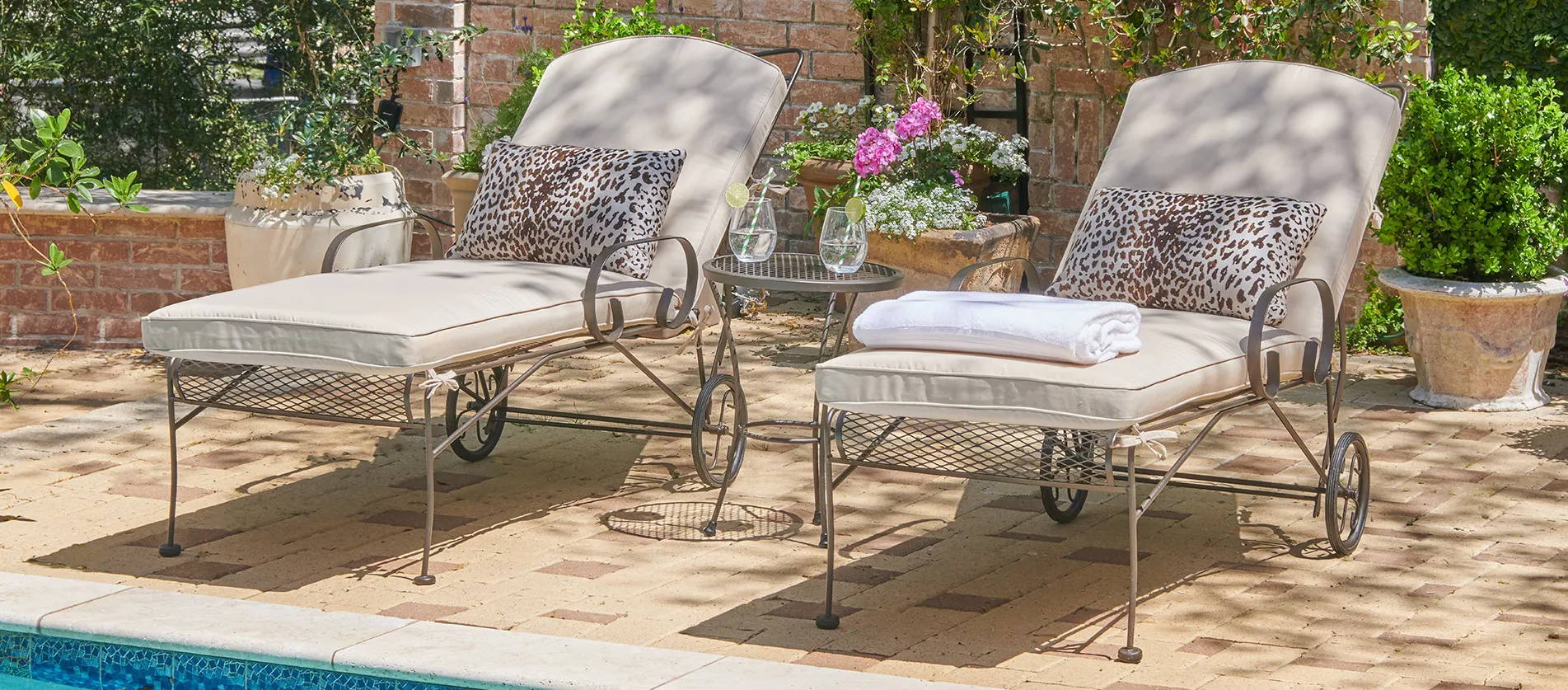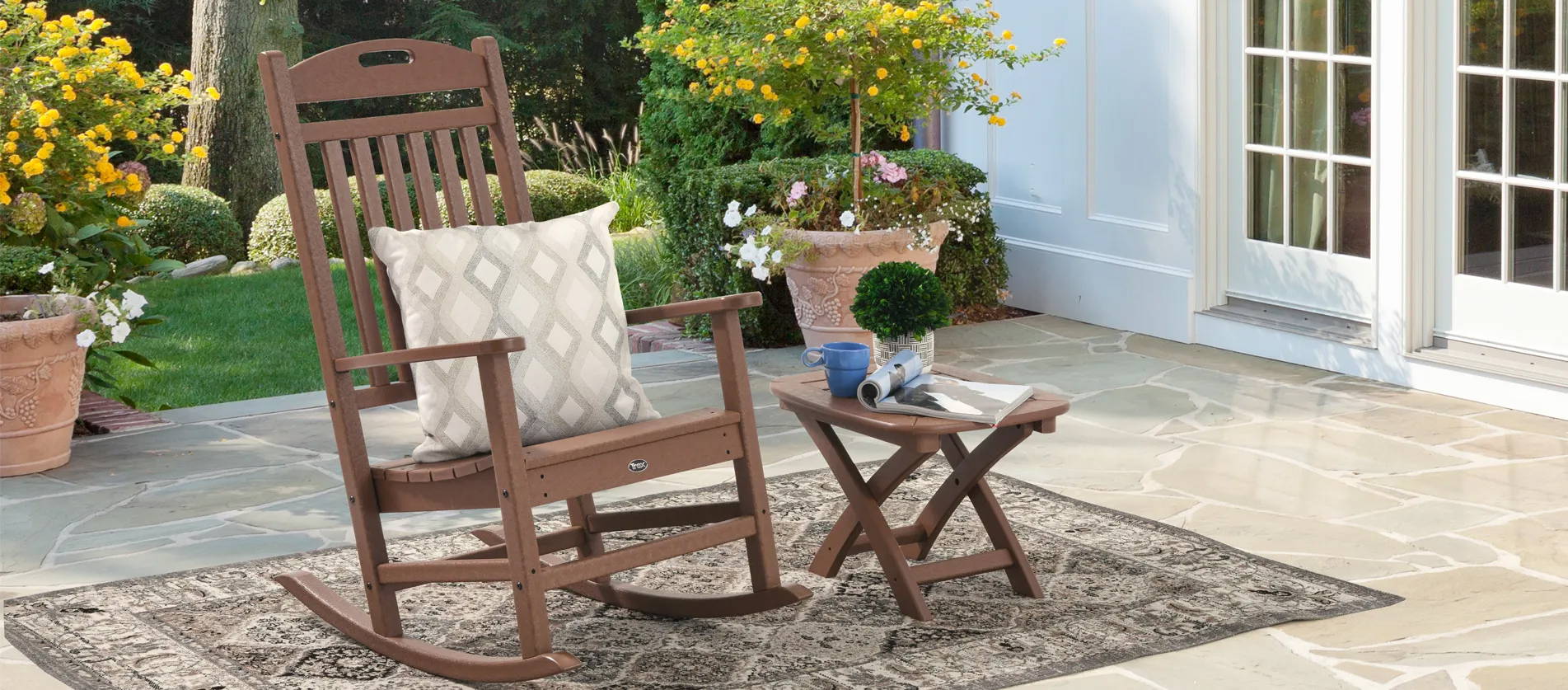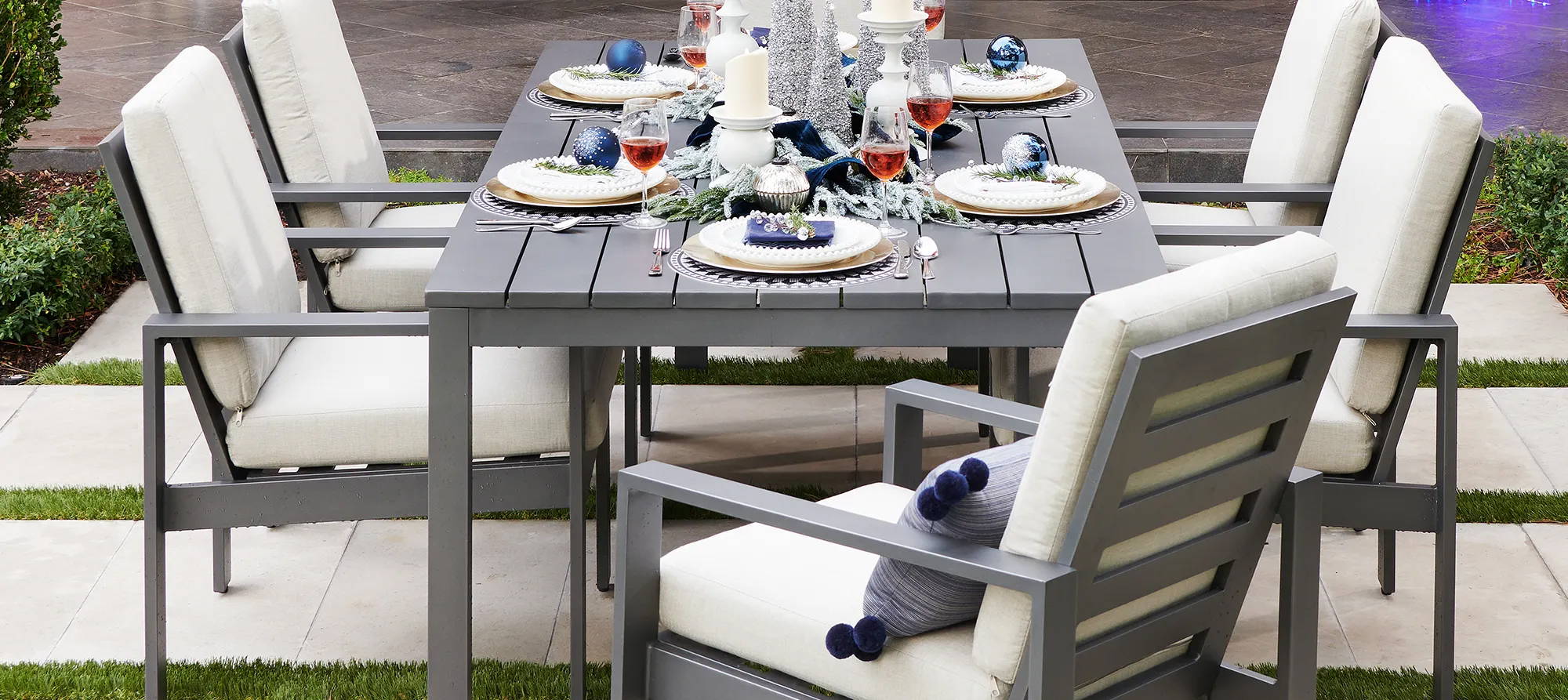 Outdoor Throw Pillows & Patio Heaters
For throw pillows, outdoor accent pillows are your best bet. They're designed to be spilled on and tossed around. You and your invitees can relax on them without worry. Sip your red wine. Eat your chocolate-covered strawberries. Our patio throw pillows and patio cushions are plush and stain resistant. They even come in hues perfect for the 14th, making them as topical as they are functional.
The finishing touch for your cozy Valentine's soiree should be a patio heater. It's an outdoor-hosting essential for the season. An outdoor heater or fire pit frees people up to have a good time instead of counting the seconds until they can go inside.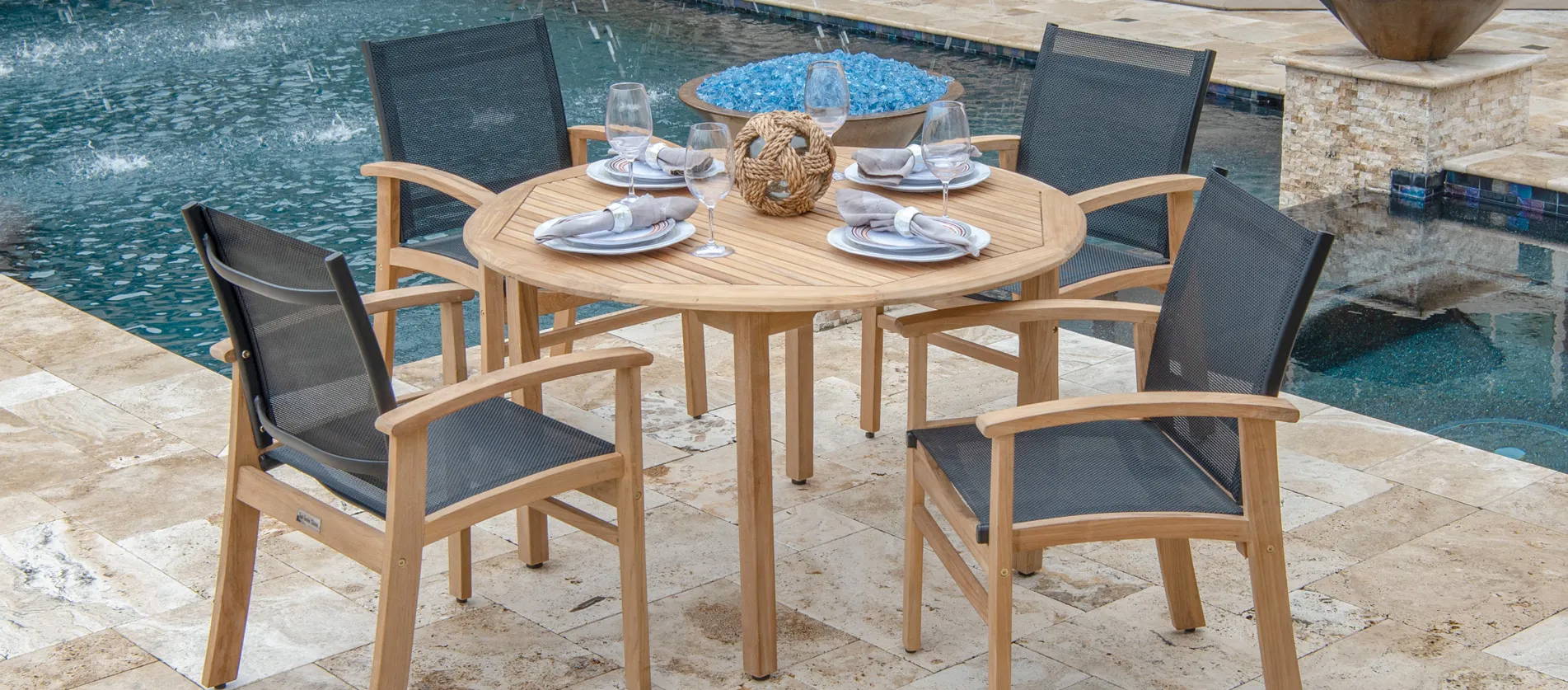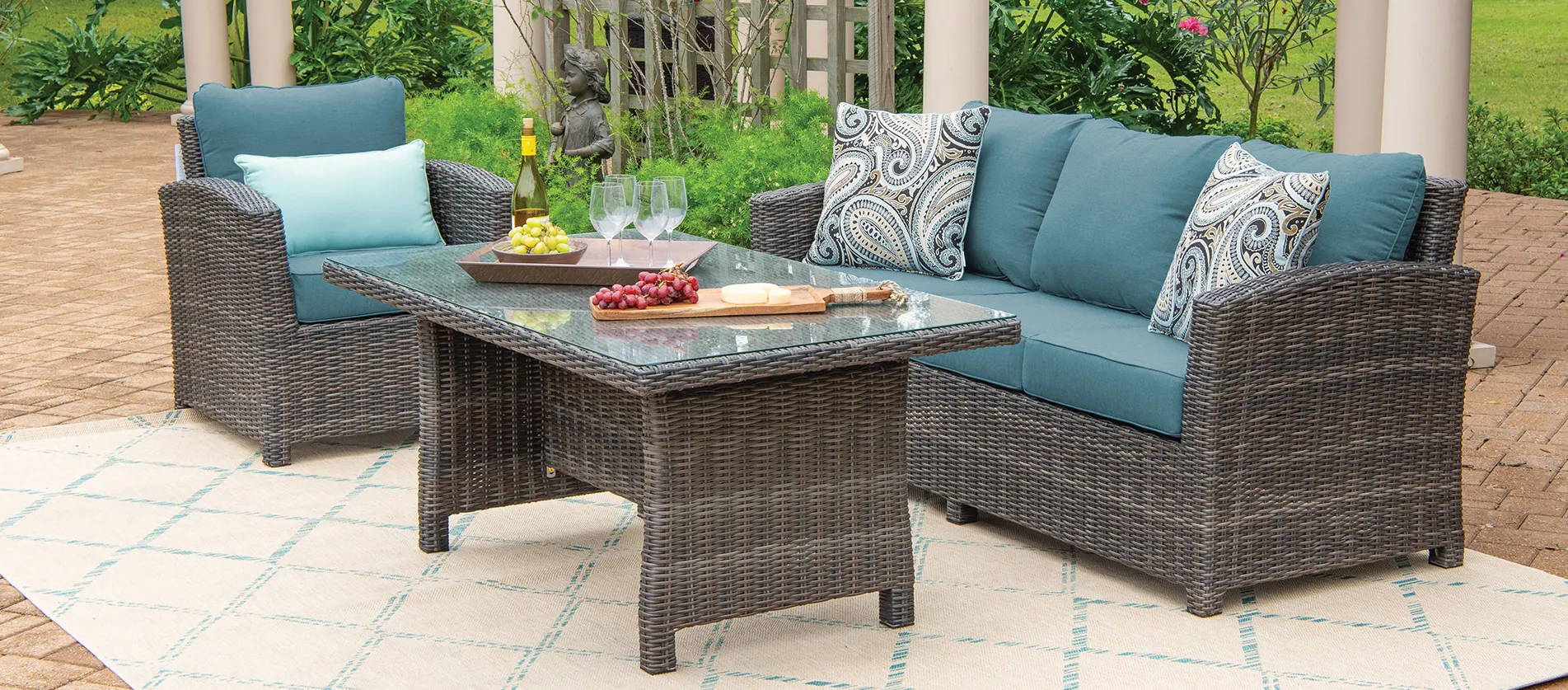 Sweethearts, also known as Conversation Hearts, are the most popular non-chocolate Valentine's Day candy.
For Teak Furniture:
Start by removing any cushions or throw pillows you may have on your teak outdoor furniture set. After these are removed, rinse the frame completely with water. Place some soap on your soft bristle brush and gently scrub the frame until it's sudsy. Rinse your teak furniture with water until the water runs clear. For stubborn stains or wood discoloration, follow this rinse by adding some Chair King Backyard Store Teak Cleaner to your soft bristle brush. Again, gently scrub the frame with the teak cleaner before rinsing until the water runs clear. Allow your patio furniture to air dry before adding back any removed cushions or throw pillows and relaxing.
Note: Teak's warm honey glow fades to a sleek silver when left unsealed. To preserve the honey color of your teak outdoor furniture, seal it with Chair King Backyard Store Teak Sealer after your set dries.
3. Plan a Fun Activity
A date is hardly a date without an activity, so why not flip the classics on their heads? Instead of paying a premium for a prix fixe menu, host a backyard picnic or dinner under the stars. You've already done the work to establish your ambiance. All that's left to do is plan a menu and your tablescape. Festive, throwaway plates and cups work in a pinch, but outdoor glasses and dishes make for a more environmentally conscious choice and are reusable, shatterproof, and dishwasher safe. We highly recommend shatterproof dishware outdoors, but especially for picnics. A stray kick or yanked blanket won't have you rushing to clean up broken glass, leaving you to focus on more important things–like your company.
A movie isn't out of the question, either. Grab a Bluetooth-compatible projector and shine your favorite RomCom on the side of your house if space allows. You can even bring some Adirondack chairs for more structured seating or the aptly named outdoor loveseat. Your date will appreciate the effort, and let's be honest: experience gifts will trump flowers and a box of chocolates any day of the week.
For Outdoor Cushions & Fabrics
Start by brushing any dirt or debris off your outdoor cushion with your soft bristle brush. After dusting your cushion, rinse it under warm water. Place some soap on your soft bristle brush and gently scrub the cushion until it's sudsy. Rinse with warm water until the water runs clear. For stubborn stains, follow the stain guide. Allow your patio cushion to air dry before putting it back into use.
Outdoor Storage
Cushions stored properly do not have to be cleaned as regularly as cushions left exposed to the elements 24/7. We recommend always putting your outdoor cushions away when they're not in use. Check out our air-tight outdoor storage containers if you need some extra storage room. They're specifically designed to keep outdoor throw pillows and patio cushions safe and dry until you need them.
Furniture Covers
Dirt is relentless, and if you can't beat it, block it with furniture covers. We recommend furniture covers with every patio set purchase. They're highly durable and shield your outdoor furniture from wind, water, and harsh sunlight. Our furniture covers are exclusive to us and designed to fit perfectly. Whether you're protecting an outdoor umbrella, patio seating set, or something in between, we've got you covered.
Let us know how these tips worked in your space by tagging us on social media. Use hashtag #chairkingbys for a chance to be featured. Looking for more patio tips? Click here or subscribe to our newsletter.
Recent Posts
FALL PATIO TRENDS FOR 2023 RELAX WITH PET-FRIENDLY PATIO FURNITURE Posted

TRENDY PATIO HEATING & FIRE PIT IDEAS RELAX WITH PET-FRIENDLY PATIO FURNIT